Town by Town guide to home prices in Essex County
This reports shows the median price of Single Family Homes (SFH) sold in each of the 34 cities and towns of Essex County, followed by a column showing the peak price recorded for each town. At the far right are sales for each of the last two years.
Median Prices
While both Essex County and Massachusetts saw record prices for SFHs in 2016, only 13 of the 34 cities and towns set records. The difference is explained by the fact that the data for Essex County aggregates all sales in one calculation, meaning that the towns with more sales have a greater weighting in the overall numbers. We'll come back to sales in a minute, but first here are the median prices by town for the last 5 years (the highest number for each town is shown in bold; if neither of the Sales figures is in bold, that means neither of the years was a record):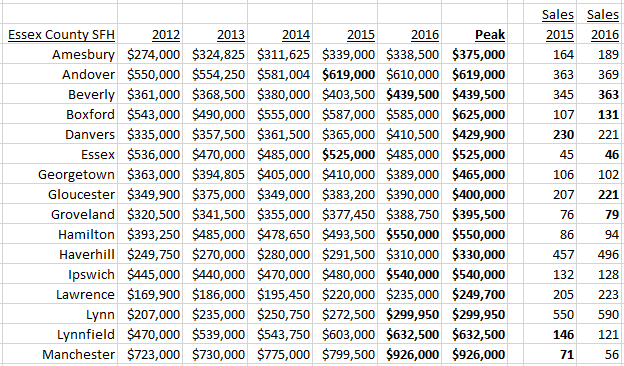 Sales
I write frequently about the law of large numbers, meaning that the larger the sample the more reliable the data is. That's why one has to be careful in just quoting numbers without understanding what is behind them. I use quarterly data where the market is large enough for that to be relevant (while noting that New England also has a seasonality to sales), but in some smaller markets I use semi-annual or even annual data. I know everybody wants "the latest" data but I find the monthly numbers quoted elsewhere to be largely meaningless.
In the next two charts I show median prices for 2012-16 for the 6 towns with the largest number of sales and compared their price performance with that of Essex County and Massachusetts. To me these look very similar (the one exception being Andover where there was a small drop from 2015 to 2016).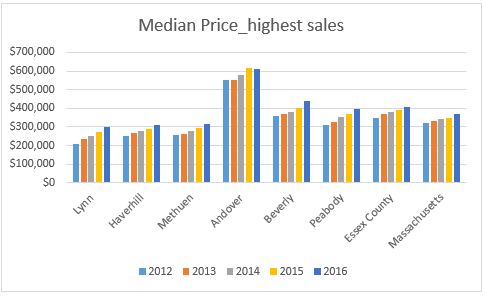 Now let's look at the 6 towns with the smallest number of sales and see how those markets compare. In several of these the median price shows more fluctuations than they do in Essex County or Massachusetts.
Comment
The median price of a SFH in both Essex County and Massachusetts has increased at about a 4% compound rate since 2012, steady – but not heady – numbers – to record levels in 2016, which also saw record sales. The numbers vary from town to town, however, with some 21 towns and cities in Essex County yet to return to their prior peak levels.
Are you thinking about selling? Read  Which broker should I choose to sell my house?
Please contact me on 617.834.8205 or Andrew.Oliver@SothebysRealty.com for a free market analysis and explanation of the outstanding marketing program I offer
If you are looking to buy, I will contact you immediately when a house that meets your needs is available. In this market you need to have somebody looking after your interests.
Andrew Oliver is a Realtor with Harborside Sotheby's International Realty. Each Office Is Independently Owned and Operated
@OliverReports