What is happening to Housing Inventory?
"The epic housing shortage that began before the pandemic and then was exacerbated by it may finally be starting to ease up. More supply is suddenly coming on the market, which will certainly help frustrated buyers and could, in the longer term, take some of the heat out of home prices."(CNBC)
Articles such as this one have appeared on a number of occasions in recent weeks. It is, of course, inevitable that the year-on-year decline in inventory will end at some point, but an increase from an extremely low level does not take the market supply into one of abundance!
Inventory
Let us look at Essex County and a few of the North Shore towns and compare inventory levels for the last three years: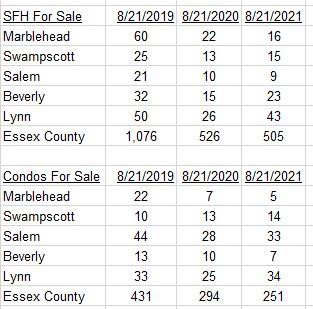 This table clearly shows that while inventory may be increasing in places from last year's levels, it is still way below that of 2019.
Supply
While I believe that the old metric of 6 months of supply representing a housing market in equilibrium between buyers and sellers may be out of sate with the speed at which buyers become aware of new listings these days, it is still the measure most widely quoted. This table, showing inventory as of August 1 and sales through July 31, demonstrates just how much the market remains weighted in favour of sellers: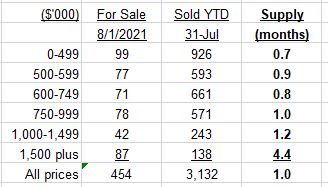 Comment
As the year-on-year declines inevitably come to an end, so we will see more commentary about the increase in supply. But…. we are starting from an incredibly low level, so even if inventory were suddenly to double, it would still represent only 2 months of supply.
And right now, there are so many variables – new COVID restrictions, back to school, etc. – that any projection is more guess than forecast.
One factor that could be significant is the psychological impact played by press reports of increasing inventory. For the last year one of the main driving forces behind the frenzied bidding wars has been FOMO (Fear Of Missing Out).
If FOMO declines we could see a more stable market.
But there are too many unknowns – both the known unknowns and the unknown unknowns – to be confident of any prediction.
Read these recent articles:
Is the increase in Inventory for real?
Team Harborside recognized on America's Best Real Estate Professionals list
Are mortgage rates heading up or down?
Essex County 2021 Residential Property Tax Rates: a Town by Town guide
Naples market summary in June
If you – or somebody you know – are considering buying or selling a home and have questions about the market and/or current home prices, please contact me on 617.834.8205 or Andrew.Oliver@SothebysRealty.com.
"If you're interested in Marblehead, you have to visit the blog of Mr. Andrew Oliver, author and curator of Oliver Reports . He's assembled the most comprehensive analysis of Essex County we know of with market data and trends going back decades. It's a great starting point for those looking in the towns of Marblehead, Sale, Beverly, Lynn and Swampscott."
Andrew Oliver
Market Analyst | Team Harborside | teamharborside.com
REALTOR®
Sagan Harborside Sotheby's International Realty
One Essex Street | Marblehead, MA 01945
m 617.834.8205
www.OliverReports.com
Andrew.Oliver@SothebysRealty.com
Sotheby's International Realty® is a registered trademark licensed to Sotheby's International Realty Affiliates LLC. Each Office Is Independently Owned and Operated
Andrew Oliver
Sales Associate | Market Analyst | DomainRealty.com
REALTOR®
Naples, Bonita Springs and Fort Myers
Andrew.Oliver@DomainRealtySales.com
m. 617.834.8205
www.AndrewOliverRealtor.com
www.OliverReportsFL.com<