Will house prices continue to rise in 2020?
Many years ago, during my investment banking career, I hired a young analyst to write a report on a very successful company, which had grown earnings for 12 years in a row. This analyst wanted to downgrade the shares because: "they have been growing for 12 years and cannot continue to grow."
Needless to say (I hope) I changed the conclusion on the report.
Why is that relevant to the housing market outlook for 2020? The market has seen annual increases since 2010, so it has risen for the last 9 years. So it can't continue, right?
Well, why not?
I have often written about the law of supply and demand.
According to the National Association of realtors (NAR): "Total housing inventory at the end of December totaled 1.40 million units, down 14.6% from November and 8.5% from one year ago (1.53 million). Unsold inventory sits at a 3.0-month supply at the current sales pace, down from the 3.7-month figure recorded in both November and December 2018. Unsold inventory totals have dropped for seven consecutive months from year-ago levels, taking a toll on home sales."
Meanwhile: the median existing-home price for all housing types in December was up 7.8% from December 2018, as prices rose in every region. November's price increase marks 94 straight months of year-over-year gains. "Price appreciation has rapidly accelerated, and areas that are relatively unaffordable or declining in affordability are starting to experience slower job growth," Yun said. "The hope is for price appreciation to slow in line with wage growth, which is about 3%."
In Essex County, the inventory of Single Family Homes (SFH) for sale, after declining for several years, increased Year-on-Year from August 2018 to June 2019. But since then inventory has declined and that declined has accelerated: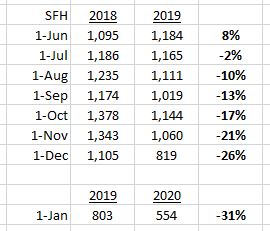 And the supply makes availability nationally seem like an abundance:

Recently, one of my sons was badly injured in a fall while hiking in Nepal. My younger son flew out to be with him. Each day we got medical updates which were full of information. My younger son would ask what his condition was and was told still critical. "That's all that matters," he said, "the rest is just noise."
At the end of 2018 in an article entitled Is a recession coming soon? I concluded by saying this:
"At the moment it (consumer confidence) is intact. As long as that remains so the likelihood for 2019 is a slowing, but still growing, economy and a stable housing market."
And earlier: "While the increase in the Fed Funds rate has been getting a lot of publicity very recently, the Fed has actually been raising rates – and indicating that it planned to continue to do so – for 3 years, with the first increase coming in December 2015.It could be argued that the more rapid increase in rates this year has been in response to the major stimulus from the tax cuts earlier in the year. It could further be argued that, on the evidence so far, the Fed has been successful in helping to slow growth to a sustainable level, thereby curbing inflationary pressures which would necessitate even higher interest rates."
There has been a lot of noise over the last year. A lot. But the economy remains strong: not super strong but chugging along quite nicely. With low unemployment, low mortgage rates and low inventory, the law of supply and demand will continue to apply and suggest that house prices, which grew faster than I had expected in the second half of 2019 as supply dwindled again, will continue on the upward path of the last 9 years.
Read Are You Thinking of Selling in 2020?
Andrew Oliver
Realtor, Sagan Harborside
Sotheby's International Realty
www.OliverReports.com
www.andrewJoliver.com
Tel: 617.834.8205
Sotheby's International Realty® is a registered trademark licensed to Sotheby's International Realty Affiliates LLC. Each Office Is Independently Owned and Operated