Gloucester Q3 2021 Market Report
Key Metrics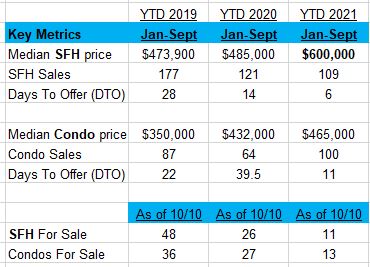 >
Single Family Homes (SFH)
The median price of the SFHs sold in Gloucester in the first 9 months of 2021 (YTD Q3 2021) increased 23.7% to $600,000 on the lowest sales number since 2009.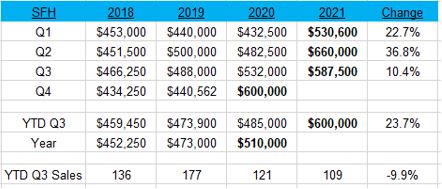 As the percentage of sales over $600,000 increased from 37% YTD in 2020 to 50% 2021, so the median price moved up to $600,000. Sales over $1 million increased from 17 to 27, with 7 sales over $3 million vs 4 in 2020.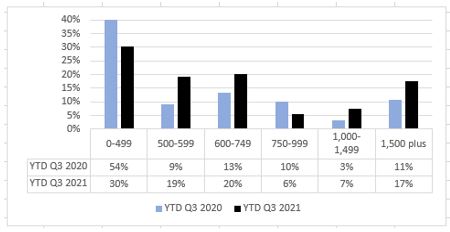 67% of SFH sales took place over list price (vs 31% YTD in 2020), with 28% of all sales (compared with 6% in 2020) at 110% or more of list.
Condos
The median price of the Condos sold in Gloucester YTD 2021 increased 7.6% to $465,000. As the share of sales over $400,000 increased from 55% YTD in 2020 to 61% in 2021, so the median price moved further above $400,000. There were 13 Condo sales over $1 million vs 6 in 2019.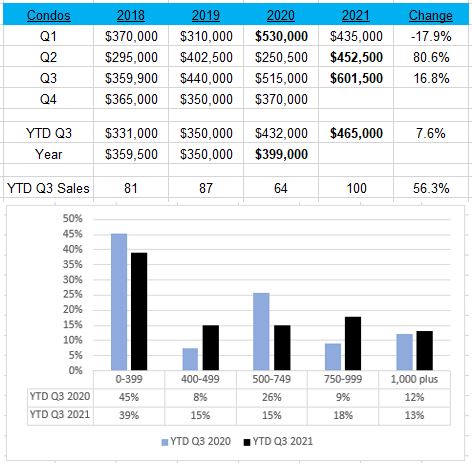 40% of sales in 2021 were over list (vs 18% in 2020) with 7% at 110% or more (vs 2% in 2020)
Comment
In the first 9 months of the year the median price of SFHs sold in Essex County increased 14.1% to $607,500, while the median Condo price increased 10.2% to $385,000. The median SFH price in Essex County declined from Q2 to Q3 (but not in Swampscott), while the median Condo price increased slightly. While quarter to quarter fluctuations are common, these numbers confirm the anecdotal reports that the frenetic activity earlier in the year eased somewhat in Q3.
After a short rally above 3% early in the year, the national average cost of a 30-year Fixed-Rate Mortgage (FRM) quickly dropped back below 3% before rallying back above 3% in October.
Source: MLSPIN, OliverReportsMA.com
Fall Market Report
Latest Housing Inventory and Market Activity
Mortgage Rates back to 3% – again
How much does it cost to live in each town in Essex County?
Flood Insurance Changes Coming Oct 1
Naples September Market Overview
Essex County 2021 Residential Property Tax Rates: a Town by Town guide
If you – or somebody you know – are considering buying or selling a home and have questions about the market and/or current home prices, please contact me on 617.834.8205 or Andrew.Oliver@SothebysRealty.com.
"If you're interested in Marblehead, you have to visit the blog of Mr. Andrew Oliver, author and curator of Oliver Reports . He's assembled the most comprehensive analysis of Essex County we know of with market data and trends going back decades. It's a great starting point for those looking in the towns of Marblehead, Sale, Beverly, Lynn and Swampscott."
Andrew Oliver
Market Analyst | Team Harborside | teamharborside.com
REALTOR®
Sagan Harborside Sotheby's International Realty
One Essex Street | Marblehead, MA 01945
m 617.834.8205
www.OliverReports.com
Andrew.Oliver@SothebysRealty.com
Sotheby's International Realty® is a registered trademark licensed to Sotheby's International Realty Affiliates LLC. Each Office Is Independently Owned and Operated
Andrew Oliver
Sales Associate | Market Analyst | DomainRealty.com
REALTOR®
Naples, Bonita Springs and Fort Myers
Andrew.Oliver@DomainRealtySales.com
m. 617.834.8205
www.AndrewOliverRealtor.com
www.OliverReportsFL