Beverly 2022 Housing Market Review
Single Family Homes (SFH)
The SFH Median Price increased 3% in 2022. while sales dropped to the lowest level since 2011.

The share of sales over $600,000 increased from 54% in 2021 to 60% in 2022, driving the median price for the year further above $600,000. There were 28 sales over $1 million in 2022, down from 41 in 2020.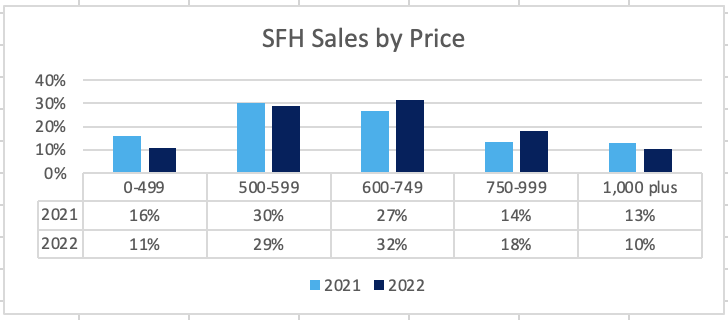 Condos
The median Condo sold price increased 8% while sales dropped to the lowest level since 2014. The share of sales over $400,000 increased from 48% in 2021 to 57% in 2022, driving the median price from under to over $400,000.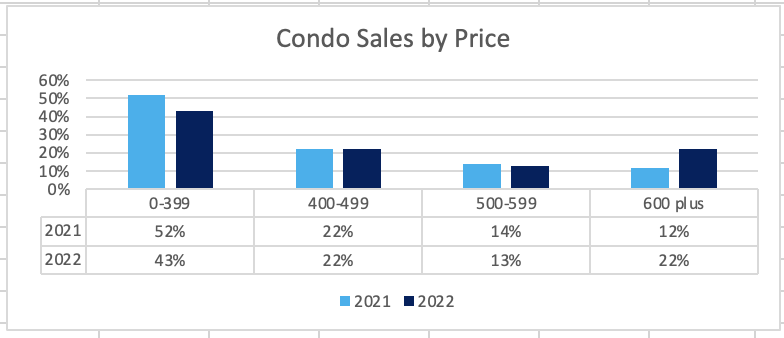 Mortgage rates
The big feature of 2022 was the huge jump in mortgage rates. The 30-year Fixed Rate Mortgage (FRM) ended 2021 at 3.1%, rose to 4.7% at the end of Q1, to 5.7% at the end of Q2, to 6.7% at the end of Q3, and peaked at just over 7%, before easing to 6.1%, still a 14- year high.
The Federal Reserve increased its interest rate (Fed Funds rate – FFR) rapidly during 2022. The FFR affects banks' prime rates, used for setting interest rates on credit cards and auto loans.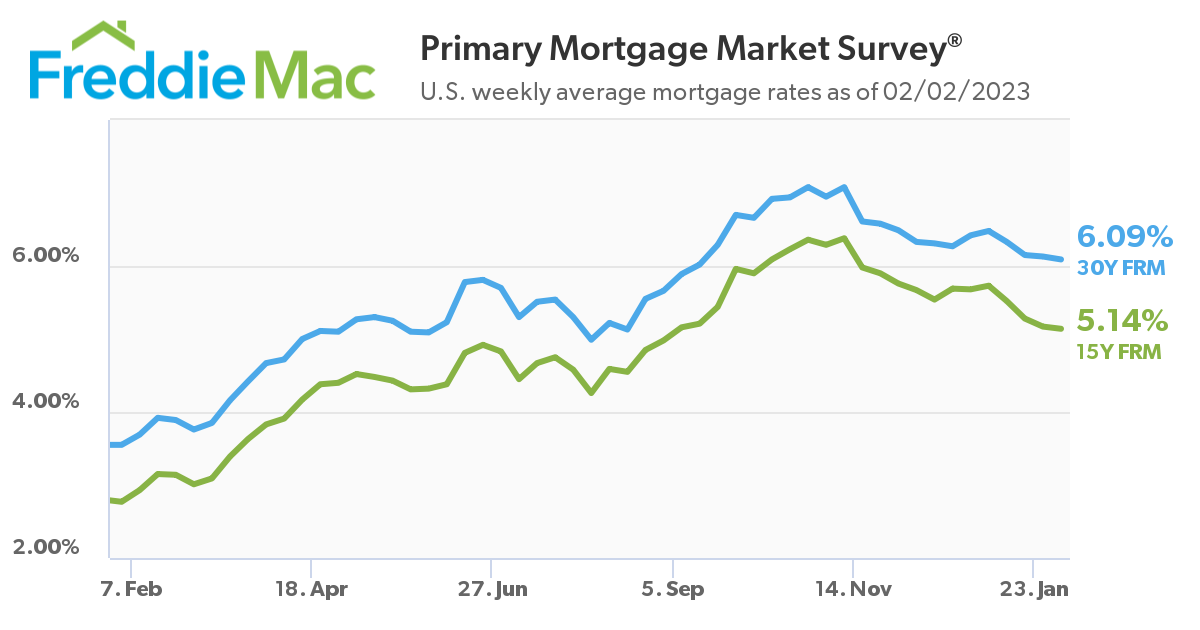 The 30-year Fixed Rate Mortgage (FRM) is determined by market forces – not the Federal Reserve – and, in particular, is priced at a premium – or spread – over the yield on the 10-year Treasury (10T). The Fed's determination to bring inflation under control, even at the cost of higher unemployment and causing a recession, led to a repricing of risks. The yield on 10T started the year at 1.6% (when the FRM was 3.2%), rose to 3.5%, dropped to 2.6%, rebounded to 4.2% and closed the year at 3.9%, before dropping again in January. No wonder the FRM oscillated but was mostly in an upward trend in 2022.
Economic and mortgage commentary
How Marblehead's 2023 Property Tax Rate is Calculated
Essex County 2023 Property Tax Rates: Town by Town guide
Why Mortgage Rates Will Fall
Recession? Yes, no, maybe….
Federal Reserve tries to rewrite history
Has Inflation Peaked?
Federal Reserve in Fantasyland: Implications for Housing Market
Market Reports
Marblehead 2022 Housing Market Review
Swampscott 2022 Housing Market Review
Salem 2022 Housing Market Review
February Inventory as low as this weekend's temperature
Essex County Town by Town Guide: 2022 Median Prices and Sales; 2023 Tax Rates
January Sales in Marblehead and Swampscott
Other
Free Property and Mortgage Fraud alert notification for homeowners
Guide to Buying and Selling in Southwest Florida
If you – or somebody you know – are considering buying or selling a home and have questions about the market and/or current home prices, please contact me on 617.834.8205 or ajoliver47@gmail.com.
Andrew Oliver, M.B.E.,M.B.A.
Market Analyst | Team Harborside | teamharborside.com
REALTOR®
m 617.834.8205
www.OliverReportsMA.com
"If you're interested in Marblehead, you have to visit the blog of Mr. Andrew Oliver, author and curator of OliverReportsMA.com. He's assembled the most comprehensive analysis of Essex County we know of with market data and trends going back decades. It's a great starting point for those looking in the towns of Marblehead, Salem, Beverly, Lynn and Swampscott."
__________________
Andrew Oliver, M.B.E., M.B.A.
Real Estate Advisor
Andrew.Oliver@Compass.com
www.TheFeinsGroup.com
www.OliverReportsFL.com
————
Compass
800 Laurel Oak Drive, Suite 400, Naples, FL 34108
m: 617.834.8205