Bidding Wars return to the North Shore
One of the features of the housing market boom of 2020-2022 was the very high number of sales above list price, an indication that there were multiple offers resulting in bidding wars.
And a logical consequence of the market returning to more normal conditions would be to expect a decline in bidding wars, leading to fewer sales taking place above list price.
Has this actually happened?
Let's look at the sales in last 12 months in Marblehead, Swampscott and Salem. Here is the chart: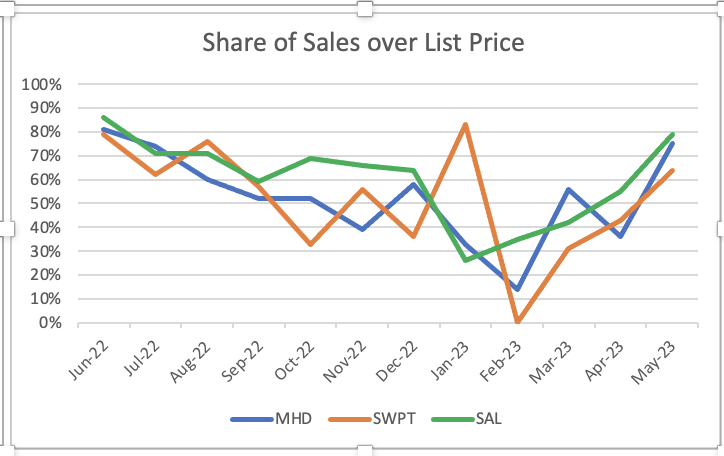 Marblehead
Excluding February (when there were just 7 sales) sales above list dropped from 81% of the total in June 2022 to just 33% in January 2023, but in May recovered to 75%.
Swampscott
If we exclude January (when there were only 6 sales), sales above list dropped from 79% of the total in June 2022 to 31% in March, and then rebounded to 64% in May.
Salem
Sales above list dropped from 86% of the total in June 2022 to a low of 26% in January 2023, and have climbed each month since then, reaching 79% in May.
Comment
One theory was that buyers in Salem were more likely than those in Marblehead or Swampscott to take out a mortgage to finance their purchase. As mortgage rates rose, so that argument went, there would be fewer buyers.
MLS does have a space to record the type of financing used by buyers. In the last year, 22% of buyers in Marblehead and 23% of buyers in Swampscott reported that their purchases were made for cash, compared with 16% in Salem.
And yet, in nearly every month in the last year, Salem has seen the highest percentage of sales over list in the three towns analysed. And all three towns have followed a very similar course.
Conclusion
I am not sure there is a definitive conclusion to draw. I did the analysis because I was noticing in my weekly reports that most sales were above list price again. Amongst possible reasons are my old friend supply and demand, the continued strength of the employment and the economy (despite the forecasts of an "imminent" recession for about a year or more), or maybe it is the lure of Artificial Intelligence (for a fascinatingly realistic and gripping thriller about AI read Andrew Updegrove's 6th and latest book The Argus Affair).
And these recent articles:
Economic and mortgage commentary
Two signs Inflation is Slowing
Federal Reserve increase rates; Mortgage Rates drop
What drives Mortgage rates in one chart
How Marblehead's 2023 Property Tax Rate is Calculated
Essex County 2023 Property Tax Rates: Town by Town guide
Why Mortgage Rates Will Fall
Market Reports
June Inventory shows modest increases
Q1 2023 Market Stats

Marblehead 2022 Housing Market Review
Swampscott 2022 Housing Market Review
Beverly 2022 Housing Market Review
Salem 2022 Housing Market Review
Essex County 2022 Housing Market Review
Essex County Town by Town Guide: 2022 Median Prices and Sales; 2023 Tax Rates
If you – or somebody you know – are considering buying or selling a home and have questions about the market and/or current home prices, please contact me on 617.834.8205 or ajoliver47@gmail.com.
Andrew Oliver, M.B.E.,M.B.A.
Market Analyst | Team Harborside | teamharborside.com
REALTOR®
m 617.834.8205
www.OliverReportsMA.com
"If you're interested in Marblehead, you have to visit the blog of Mr. Andrew Oliver, author and curator of OliverReportsMA.com. He's assembled the most comprehensive analysis of Essex County we know of with market data and trends going back decades. It's a great starting point for those looking in the towns of Marblehead, Salem, Beverly, Lynn and Swampscott."
__________________
Andrew Oliver, M.B.E., M.B.A.
Real Estate Advisor
Andrew.Oliver@Compass.com
www.TheFeinsGroup.com
www.OliverReportsFL.com
————
Compass
800 Laurel Oak Drive, Suite 400, Naples, FL 34108
m: 617.834.8205