Which country has the fastest growth in home prices?
According to data gathered by money.co.uk (no relation to money.com, but we should probably be friends or something), the country with the highest property price increase from 2010 to 2020 was Israel, where there was a staggering 346% rise in costs per square meter.
Switzerland and Germany come next, with increases of 166% and 162%, followed by the United States at 153%. Hungary, Slovakia, France, Portugal, Japan and the United Kingdom round out the rest of the top 10, all with average home price increases of at least 75%.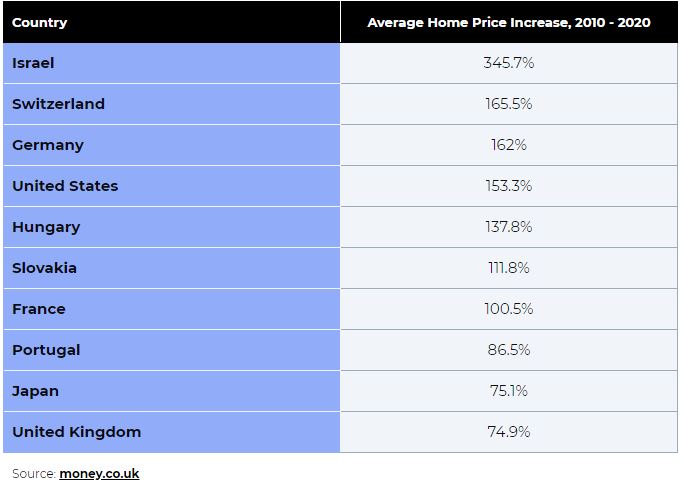 On the other hand, the country with the most expensive residential properties as of 2020 — based on the average price per square meter, in cities and outside city centers — is South Korea, followed by Switzerland, France, Israel and Japan.
Meanwhile, data from the St. Louis Fed shows how the percentage increases translate into actual price changes for U.S. homes. In the first quarter of 2010, the median sales price for U.S. homes was $222,900. Ten years later, that price rose by over $100,000, to $329,000.
Home prices have continued getting more expensive after that first quarter of 2020, when the pandemic hit and the residential housing market really took off, and historically low mortgage rates have helped keep it hot. Median sales prices in the U.S. rose to $369,800 during the first quarter of 2021, and then crept up to $374,900 in the second quarter.
Read Is the increase in Inventory for real?
And these recent articles:
Team Harborside recognized on America's Best Real Estate Professionals list
Are mortgage rates heading up or down?
"Party on, dude" says the Federal Reserve
Essex County 2021 Residential Property Tax Rates: a Town by Town guide
Naples Housing Market Summary by Area
If you – or somebody you know – are considering buying or selling a home and have questions about the market and/or current home prices, please contact me on 617.834.8205 or Andrew.Oliver@SothebysRealty.com.
"If you're interested in Marblehead, you have to visit the blog of Mr. Andrew Oliver, author and curator of Oliver Reports . He's assembled the most comprehensive analysis of Essex County we know of with market data and trends going back decades. It's a great starting point for those looking in the towns of Marblehead, Sale, Beverly, Lynn and Swampscott."
Andrew Oliver
Market Analyst | Team Harborside | teamharborside.com
REALTOR®
Sagan Harborside Sotheby's International Realty
One Essex Street | Marblehead, MA 01945
m 617.834.8205
www.OliverReports.com
Andrew.Oliver@SothebysRealty.com
Sotheby's International Realty® is a registered trademark licensed to Sotheby's International Realty Affiliates LLC. Each Office Is Independently Owned and Operated
Andrew Oliver
Sales Associate | Market Analyst | DomainRealty.com
REALTOR®
Naples, Bonita Springs and Fort Myers
Andrew.Oliver@DomainRealtySales.com
m. 617.834.8205
www.AndrewOliverRealtor.com
www.OliverReportsFL