List of Properties Available for sale
New listings are seeing tremendous competition, and inventory is way down compared with a year ago. Buyers need to look at the list of all available properties as sometimes properties get overlooked for no obvious reason. Here is the summary of current inventory: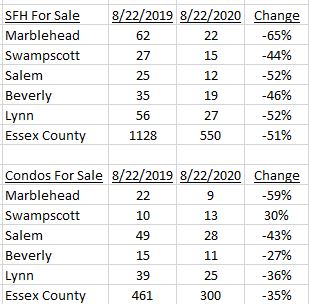 Click on these links for full details:
Marblehead SFHs For Sale
Marblehead Condos For Sale
Swampscott SFH For Sale
Swampscott Condos For Sale
Salem SFH For Sale
Salem Condos For Sale
Beverly SFHs For Sale
Beverly Condos For Sale
Lynn SFHs For Sale
Lynn Condos For Sale
Inventory chronically low; demand booming
Goodbye Boston, Hello Marblehead
Mortgage rates dip below 3% – where to next?
"If you're interested in Marblehead, you have to visit the blog of Mr. Andrew Oliver, author and curator of OliverReports.com. He's assembled the most comprehensive analysis of Essex County we know of with market data and trends going back decades. It's a great starting point for those looking in the towns of Marblehead, Sale, Beverly, Lynn and Swampscott."
Andrew Oliver
Market Analyst | Team Harborside | teamharborside.com
REALTOR®
Sagan Harborside Sotheby's International Realty
One Essex Street | Marblehead, MA 01945
m 617.834.8205
www.OliverReports.com
Andrew.Oliver@SothebysRealty.com
Sotheby's International Realty® is a registered trademark licensed to Sotheby's International Realty Affiliates LLC. Each Office Is Independently Owned and Operated
Swampscott Condos For Sale