Marblehead 2018 Housing Market By The Numbers
here
to download a copy of this report.]
Single Family Homes (SFH)
The median price of the SFHs sold in 2018 increased 3.7% to a new record $689,500. Reflecting the shortage of supply, sales declined again to the lowest level since 2011.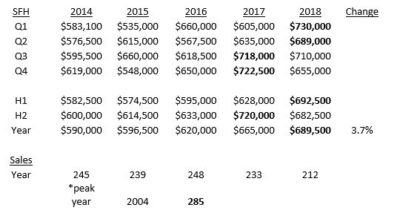 Condos
The main feature of the condo market in 2018 was that two-thirds of the condos sold at or above list price.

NB. The numbers for Condos were updated on January 22 to remove an incorrect listing in MLS. The change was minor.
Andrew Oliver
Realtor, Sagan Harborside
Sotheby's International Realty
www.andrewJoliver.com
www.OliverReports.com
Tel: 617.834.8205
Sotheby's International Realty® is a registered trademark licensed to Sotheby's International Realty Affiliates LLC. Each Office Is Independently Owned and Operated
[Click