Swampscott 2018 Housing Market By The Numbers
[Click here to download a copy of this report.]
Single Family Homes (SFH)
The median price of the SFHs sold in Swampscott in 2018 increased 10.5% to a new record of $587,250. Sales recovered, but only to the 2016 level.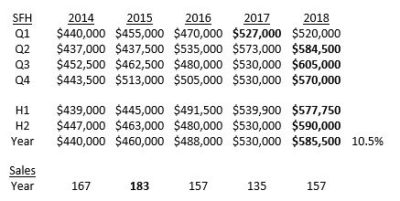 Condos
The median price was influenced by the sale of 16 units in the new Avery development. Excluding those, the median price was $329,950, which was still a 12% increase. Sales were a new record, helped by the 16 at Avery.

Andrew Oliver
Realtor, Sagan Harborside
Sotheby's International Realty
www.andrewJoliver.com
www.OliverReports.com
Tel: 617.834.8205
Sotheby's International Realty® is a registered trademark licensed to Sotheby's International Realty Affiliates LLC. Each Office Is Independently Owned and Operated