Marblehead, Swampscott October sales still mostly above List Price
With all the chatter about home prices nationally declining or about to decline, October sales in Marblehead and Swampscott seem to be saying NIMBY – not here please.
Marblehead
12 of 19 SFH sales in October were at or over List price, with 2 sales at 35% and 36% over list: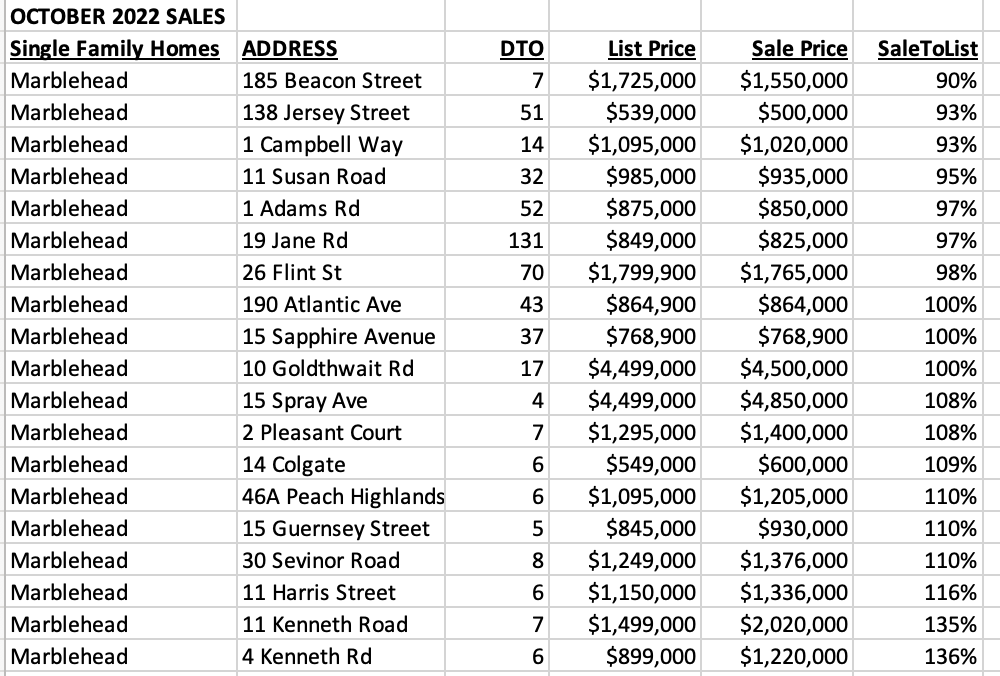 Swampscott
5 of 10 SFH sales in October were at or over List pice


Comment
While sales continue to be strong – and often strongly above list price – it is interesting to note that 8 of the 19 SFHs currently available for sale in Marblehead have had price reductions, while 4 of the 11 in Swampscott have also seen price cuts – or "adjustments' or "improvements" as we like to call them.
Notably also, the inventory of SFHs for sale in Essex County has not seen the usual seasonal decline so far, an indication perhaps of the consequences of the doubling in mortgage rates this year, with buyers reluctant to pay the much higher rates – and sellers reluctant to move and surrender their low-rate mortgage.
As we approach Thanksgiving and the holiday season, I suspect both buyers and sellers – unless their need is urgent – may decide to focus on planning time with their families and friends – and then take another look at the housing market in 2023.
And these recent articles:
Economic and mortgage commentary
Recession? Yes, no, maybe….
Federal Reserve tries to rewrite history
Has Inflation Peaked?
Are we already in a Recession?
Federal Reserve in Fantasyland: Implications for Housing Market
Time to Consider an Adjustable Rate Mortgage
How Marblehead's 2022 Property Tax Rate is calculated
Essex County 2022 Property Tax Rates: Town by Town guide
Market Reports
Marblehead Q3 2022 Report: Median Price tops $1 million
Swampscott Q3 2022 Report: Median Price hits $800,000
Salem Q3 2022 Report: Median Single Family price breaks through $600,000
Marblehead house sells for 35% above list price
October Inventory shows modest decline </a)
Is the U.S. Housing Market at a Crossroads?
Summer 2022 Market Review
Essex County Mid-Year Market Summary in 5 slides
Massachusetts Mid-Year Market Summary in 5 slides