October Inventory shows modest decline
After 5 months when Single Family inventory ran ahead of last year's numbers, in October there was a modest year-on-year drop.
Single Family Homes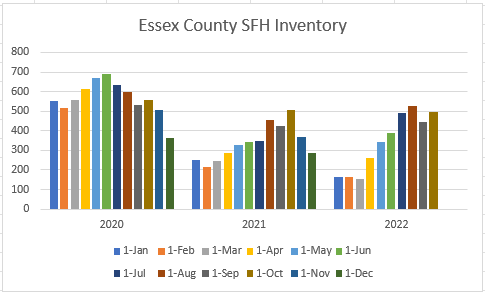 Condos
Condo inventory continues to lag both 2020 and 2021 levels.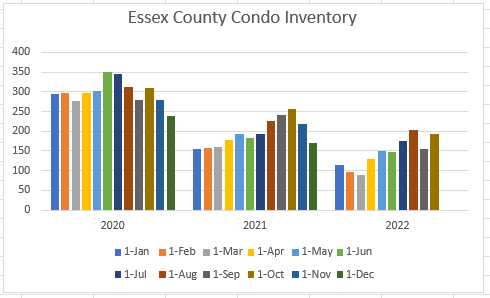 Mortgage rates
The 30-year Fixed Rate Mortgage fluctuated around 3% for most of 2021. The Fed appeared to many commentators (read my "Party on, dude" says the Federal Reserve posted in March 2021) to be taking an overly optimistic view about inflation; its indication of a policy reversal late in 2021 sparked a jump in the crucial 10-year Treasury yield and hence in mortgage rates. With inflation continuing to soar well beyond the Fed's preferred 2%, interest rates have climbed in 2022, driving mortgage rates to a multi-year high.
A pullback in Treasury yields from the middle of June to the middle of August led to a sharp drop in mortgage rates, but they have since rebounded to levels not seen for 15 years as the market decided to believe the Federal Reserve Chair when he says the Fed will keep going with rate increases until it gets inflation back to 2% – or can be seen to be on that path.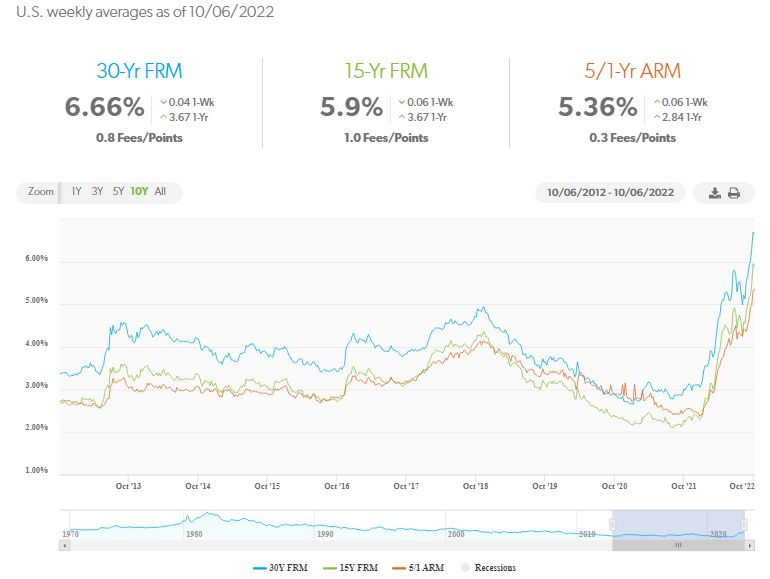 And these recent articles:
Economic and mortgage commentary
Recession? Yes, no, maybe….
Federal Reserve tries to rewrite history
Has Inflation Peaked?
Have Mortgage Rates peaked?
Are we already in a Recession?
Federal Reserve in Fantasyland: Implications for Housing Market
Time to Consider an Adjustable Rate Mortgage
How Marblehead's 2022 Property Tax Rate is calculated
Essex County 2022 Property Tax Rates: Town by Town guide
Market Reports
Marblehead house sells for 35% above list price
Summer 2022 Market Review
August Inventory recovers to 2020 levels
Essex County Mid-Year Market Summary in 5 slides
Massachusetts Mid-Year Market Summary in 5 slides
How quickly are houses selling?
Have Home Sales slowed?
June Housing Inventory: still way below 2020 levels.
Other
Free Property and Mortgage Fraud alert notification for homeowners
Guide to Buying and Selling in Southwest Florida
If you – or somebody you know – are considering buying or selling a home and have questions about the market and/or current home prices, please contact me on 617.834.8205 or ajoliver47@gmail.com.
Andrew Oliver, M.B.E.,M.B.A.
Market Analyst | Team Harborside | teamharborside.com
REALTOR®
m 617.834.8205
www.OliverReportsMA.com
"If you're interested in Marblehead, you have to visit the blog of Mr. Andrew Oliver, author and curator of OliverReportsMA.com. He's assembled the most comprehensive analysis of Essex County we know of with market data and trends going back decades. It's a great starting point for those looking in the towns of Marblehead, Salem, Beverly, Lynn and Swampscott."
__________________
Andrew Oliver, M.B.E., M.B.A.
Real Estate Advisor
Andrew.Oliver@Compass.com
www.TheFeinsGroup.com
www.OliverReportsFL.com
————
Compass
800 Laurel Oak Drive, Suite 400, Naples, FL 34108