Flash Mid-year housing report
The headline for the first 6 months of 2016 is that sales of both Single Family Homes (SFH) and Condos in Essex County and Massachusetts were up by 12-18% compared with 2015, while inventory is down 13-23%.
This report shows current inventory, compared with sales in the first 6 months of the year, for all 34 cities and towns in Essex County and for Essex County and Massachusetts overall.
Summary
Single Family Homes
I have used sales for the first 6 months of the year to calculate current supply (the number of months current inventory would last at the rate of sales in the first 6 months). The market is generally considered to be in equilibrium between buyers and sellers when there is 6 months supply. Less than that favours sellers, more than that favours buyers.
For both Essex County and MA the supply is less than 4 months, indicating a market favouring sellers. Within Essex County there are some significant variations. Manchester stands out with nearly 13 months of supply, with only Gloucester, Ipswich, Middleton, Nahant, Rockport, Wenham and West Newbury, joining it with 6 months or more of supply.
Many more towns have very tight supply positions, with 6 towns – Danvers, Haverhill, Lawrence, Lynn, Peabody and Salem – having less than 2 months of supply: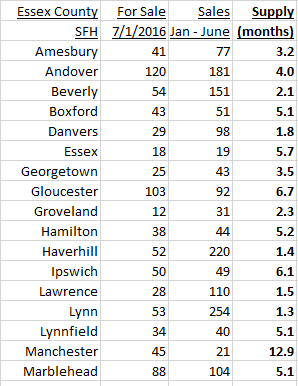 Condos
The condo market is even tighter with just 2.5 months' supply in Essex County and 2.3 months in Massachusetts overall. It is so tight that  only Rockport, which is not a condo town, has more than 6 months of supply.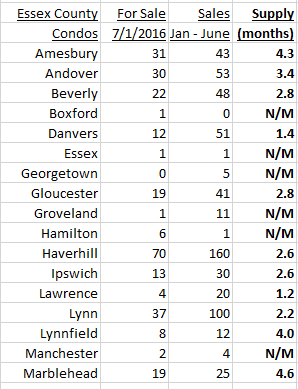 Comment
These numbers clearly show the pattern that sales are up and inventory down pretty well across the board. With mortgage rates challenging all-time lows, and the economy growing steadily, if not strongly, the outlook should be for continued strength in the housing market.
A necessary caveat is that world events – think Brexit – may cause the world economy to slow, while here in the US the Presidential election will feature more prominently in the news come Labor Day. This may not be the time to be exceptionally brave, but it is may also not be the time to be too cautious.
If you are considering selling your home please contact me on 617.834.8205 or Andrew.Oliver@SothebysRealty.com for a free market analysis and explanation of the outstanding marketing program I offer.
Read  Which broker should I choose to sell my house?
If you are looking to buy, I will contact you immediately when a house that meets your needs is available. In this market you need to have somebody looking after your interests.
Andrew Oliver is a Realtor with Harborside Sotheby's International Realty. Each Office Is Independently Owned and Operated
@OliverReports