New Listings mid-week August 4
Here are the latest New Listings: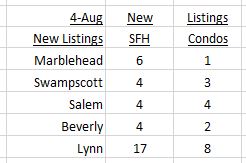 Click these links for details:
Marblehead New Listings
Swampscott New Listings
Salem New Listings
Beverly New Listings
Lynn New Listings
While year-on-year declines in inventory are shrinking in Essex County overall, absolute levels are still historically low: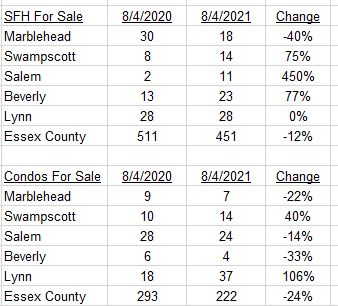 And read Is the increase in Inventory for real?
And read these recent articles:
Team Harborside recognized on America's Best Real Estate Professionals list
Are mortgage rates heading up or down?
Housing Inventory little changed in July
"Party on, dude" says the Federal Reserve
Essex County 2021 Residential Property Tax Rates: a Town by Town guide
Naples Housing Market Summary by Area
If you – or somebody you know – are considering buying or selling a home and have questions about the market and/or current home prices, please contact me on 617.834.8205 or Andrew.Oliver@SothebysRealty.com.
"If you're interested in Marblehead, you have to visit the blog of Mr. Andrew Oliver, author and curator of Oliver Reports . He's assembled the most comprehensive analysis of Essex County we know of with market data and trends going back decades. It's a great starting point for those looking in the towns of Marblehead, Sale, Beverly, Lynn and Swampscott."
Andrew Oliver
Market Analyst | Team Harborside | teamharborside.com
REALTOR®
Sagan Harborside Sotheby's International Realty
One Essex Street | Marblehead, MA 01945
m 617.834.8205
www.OliverReports.com
Andrew.Oliver@SothebysRealty.com
Sotheby's International Realty® is a registered trademark licensed to Sotheby's International Realty Affiliates LLC. Each Office Is Independently Owned and Operated
Andrew Oliver
Sales Associate | Market Analyst | DomainRealty.com
REALTOR®
Naples, Bonita Springs and Fort Myers
Andrew.Oliver@DomainRealtySales.com
m. 617.834.8205
www.AndrewOliverRealtor.com
www.OliverReportsFL