Open Houses Sunday March 5
No snow for today's Open Houses: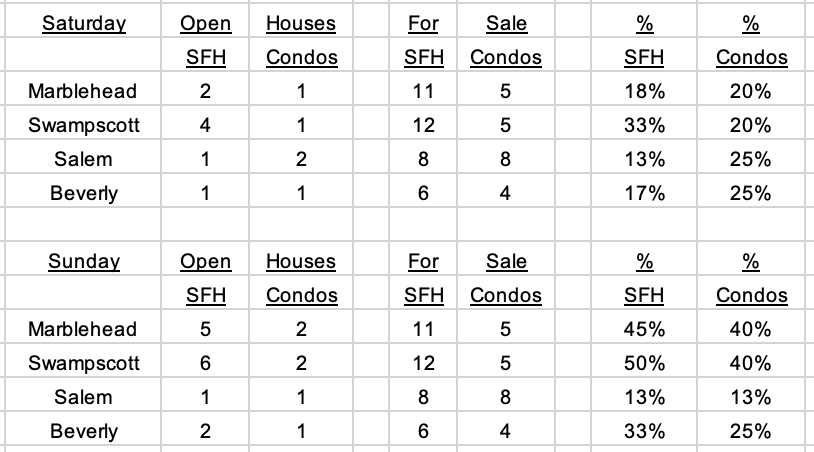 Click on these links for details:
Marblehead Open Houses
Swampscott Open Houses
Salem Open Houses
Beverly Open House
And these recent articles:
Economic and mortgage commentary
What drives Mortgage rates in one chart
How Marblehead's 2023 Property Tax Rate is Calculated
Essex County 2023 Property Tax Rates: Town by Town guide
Why Mortgage Rates Will Fall
Recession? Yes, no, maybe….
Federal Reserve tries to rewrite history
Has Inflation Peaked?
Federal Reserve in Fantasyland: Implications for Housing Market
Market Reports
March Inventory shows no improvement
Marblehead 2022 Housing Market Review
Swampscott 2022 Housing Market Review
Beverly 2022 Housing Market Review
Salem 2022 Housing Market Review
Essex County 2022 Annual Housing Market Report
Essex County 2022 Housing Market Review
Essex County Town by Town Guide: 2022 Median Prices and Sales; 2023 Tax Rates
Other
Free Property and Mortgage Fraud alert notification for homeowners
Guide to Buying and Selling in Southwest Florida
If you – or somebody you know – are considering buying or selling a home and have questions about the market and/or current home prices, please contact me on 617.834.8205 or ajoliver47@gmail.com.
Andrew Oliver, M.B.E.,M.B.A.
Market Analyst | Team Harborside | teamharborside.com
REALTOR®
m 617.834.8205
www.OliverReportsMA.com
"If you're interested in Marblehead, you have to visit the blog of Mr. Andrew Oliver, author and curator of OliverReportsMA.com. He's assembled the most comprehensive analysis of Essex County we know of with market data and trends going back decades. It's a great starting point for those looking in the towns of Marblehead, Salem, Beverly, Lynn and Swampscott."
__________________
Andrew Oliver, M.B.E., M.B.A.
Real Estate Advisor
Andrew.Oliver@Compass.com
www.TheFeinsGroup.com
www.OliverReportsFL.com
————
Compass
800 Laurel Oak Drive, Suite 400, Naples, FL 34108
m: 617.834.8205