How quickly are houses selling?
The following chart shows the percentage of sales each month where the offer was received in 15 days or less after listing: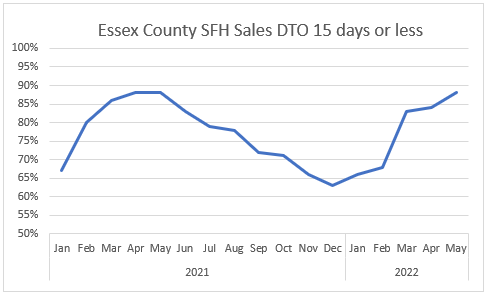 Comment
Sales are a lagging indicator – May sales, for example, for the most part reflect sales agreed in March – but they do demonstrate the strength of demand – and the seasonality of the market in New England. I shall publish an article tomorrow showing the number of Accepted Offers week by week to show the level of current activity.
And read these recent articles:
June Housing Inventory: still way below 2020 levels
Marblehead Neck Oceanfront New Listing
Swampscott House on over 1 acre with HUGE potential
Free Property and Mortgage Fraud alert notification for homeowners
The Federal Reserve and Mortgage Rates
Earth to Federal Reserve: What are you waiting for?
How Marblehead's 2022 Property Tax Rate is calculated
Essex County 2022 Property Tax Rates: Town by Town guide
Guide to Buying and Selling in Southwest Florida
If you – or somebody you know – are considering buying or selling a home and have questions about the market and/or current home prices, please contact me on 617.834.8205 or ajoliver47@gmail.com.
"If you're interested in Marblehead, you have to visit the blog of Mr. Andrew Oliver, author and curator of Oliver ReportsMA . He's assembled the most comprehensive analysis of Essex County we know of with market data and trends going back decades. It's a great starting point for those looking in the towns of Marblehead, Sale, Beverly, Lynn and Swampscott."
Andrew Oliver
Market Analyst | Team Harborside | teamharborside.com
REALTOR®
m. 617.834.8205
www.OliverReportsMA.com
   ————————–
Andrew Oliver, M.B.E., M.B.A.
Real Estate Advisor
Andrew.Oliver@Compass.com
www.TheFeinsGroup.com
www.OliverReportsFL.com
Compass
800 Laurel Oak Drive, Suite 400, Naples, FL 34108
m: 617.834.8205