Tips for working remotely in a tiny home
I seem to recall a lot of talk about tiny homes a couple of  years ago – heck, I even wrote about them in  Tiny house with great views for $40,000.
Boston.com has an intriguing article about Working from Home in a Tiny House/.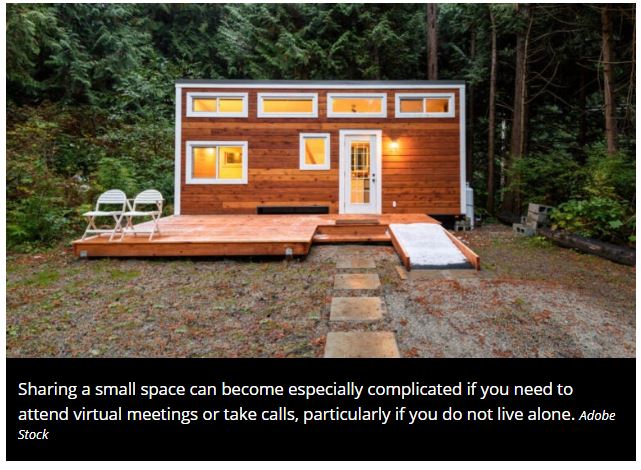 For those considering joining the tiny-house movement while working remotely, Stephanie Burrows, founder of the Tiny Homes of New England Meetup group, offered advice.
"Try to be forward-thinking if you're going to be in it for a while. Make every bit of space be convertible in some way, or have a specific purpose for it so you're not wasting space," said Burrows, who also works as a kitchen and bath designer. Burrows previously rented tiny houses, and will soon move into the tiny home she designed for herself. Knowing she might have to work from home in her 8.5-by-37-foot trailer influenced her design, she said.
"The area where my desk is, part of that wall space is also a fold-dining room table. What that does for me is for working when you need that extra countertop surface, it's an extension of the desk area," she said. "I also created vertical space so that I'm able to do the stand up-sit down kind of desk for long periods of time."
"A lot of the issues that I'm facing working from home in a tiny house are pandemic-related, so I hope it doesn't deter people from getting tiny houses. There are a lot of people that I know in this community who work remotely 100 percent of the time and don't have these issues."
"I wish that we had thought of more options before we settled into what we have now, because it's a little harder to make up for not preparing for the unknown."
Perhaps a tiny house is a solution – for some at least – to sky-rocketing home prices. Now, I just need to have a conversation with my wife……..
Read The Facts about Inventory and Home Prices
And these recent articles:
Team Harborside recognized on America's Best Real Estate Professionals list
Are mortgage rates heading up or down?
"Party on, dude" says the Federal Reserve
Essex County 2021 Residential Property Tax Rates: a Town by Town guide
Naples Housing Market Summary by Area
If you – or somebody you know – are considering buying or selling a home and have questions about the market and/or current home prices, please contact me on 617.834.8205 or Andrew.Oliver@SothebysRealty.com.
"If you're interested in Marblehead, you have to visit the blog of Mr. Andrew Oliver, author and curator of Oliver Reports . He's assembled the most comprehensive analysis of Essex County we know of with market data and trends going back decades. It's a great starting point for those looking in the towns of Marblehead, Sale, Beverly, Lynn and Swampscott."
Andrew Oliver
Market Analyst | Team Harborside | teamharborside.com
REALTOR®
Sagan Harborside Sotheby's International Realty
One Essex Street | Marblehead, MA 01945
m 617.834.8205
www.OliverReports.com
Andrew.Oliver@SothebysRealty.com
Sotheby's International Realty® is a registered trademark licensed to Sotheby's International Realty Affiliates LLC. Each Office Is Independently Owned and Operated
Andrew Oliver
Sales Associate | Market Analyst | DomainRealty.com
REALTOR®
Naples, Bonita Springs and Fort Myers
Andrew.Oliver@DomainRealtySales.com
m. 617.834.8205
www.AndrewOliverRealtor.com
www.OliverReportsFL