October Inventory shows Sharp Jump from September
Overall Inventory in Essex County has been on a roller-coaster this year in terms of comparison with a year ago.
Single Family Homes (SFH)
In the early months SFH was up 50% or more from the extremely low levels in 2022. By the summer, YOY inventory was down by around 1/3. October showed an increase of 1/3 from September 1, bringing the YOY deficit to just 11%.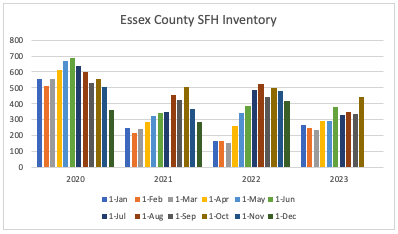 Condos
Condo inventory showed a similar, if less exaggerated, pattern. The 45% increase from September to October brought inventory levels in line with 2022's, but still well below those in 2020 and 2021.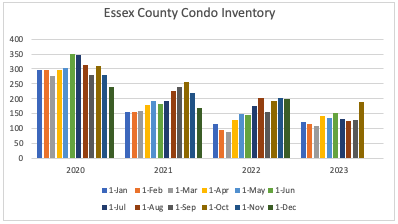 Mortgage rates
While inflation has slowed significantly this year (read Core Inflation Prices Barely Budged in August), the Federal Reserve has continued to hike rates. Meanwhile, he yield on the 10-year Treasury – which influences mortgage rates – has soared in rcecent months, in part as the market has realised that there will be record sales of Treasuries at a time when the Federal reserve has tuned seller, and foreign countries are not increasing their holdings and purchases of Treasuries.
Just like the housing market, the Treasury market is influenced by supply and demand.
After falling to the low 6% range earlier in the year, the 30-year Fixed Rate Mortgage (FRM) has marched upwards, reaching a near-23 year high this week.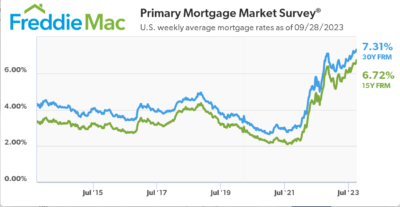 And these recent articles:
2 of Every 25 U.S. Homes Worth at Least $1M
Housing Inventory Drops; Mortgage Rates Rise
Marblehead Mid-year 2023 Market Stats
Swampscott Mid-year 2023 Market Stats
Salem Mid-year 2023 Market Stats
Economic and mortgage commentary
Core Inflation Prices Barely Budged in August
Two signs Inflation is Slowing
Federal Reserve increase rates; Mortgage Rates drop
What drives Mortgage rates in one chart
How Marblehead's 2023 Property Tax Rate is Calculated
Essex County 2023 Property Tax Rates: Town by Town guide
Why Mortgage Rates Will Fall
Market Reports
Bidding Wars return to North Shore
Q1 2023 Market Stats

Marblehead 2022 Housing Market Review
Swampscott 2022 Housing Market Review
Beverly 2022 Housing Market Review
Salem 2022 Housing Market Review
Essex County 2022 Housing Market Review
July Inventory shows Sharp Drop
Essex County Town by Town Guide: 2022 Median Prices and Sales; 2023 Tax Rates
If you – or somebody you know – are considering buying or selling a home and have questions about the market and/or current home prices, please contact me on 617.834.8205 or ajoliver47@gmail.com.
Andrew Oliver, M.B.E.,M.B.A.
Market Analyst | Team Harborside | teamharborside.com
REALTOR®
m 617.834.8205
www.OliverReportsMA.com
"If you're interested in Marblehead, you have to visit the blog of Mr. Andrew Oliver, author and curator of OliverReportsMA.com. He's assembled the most comprehensive analysis of Essex County we know of with market data and trends going back decades. It's a great starting point for those looking in the towns of Marblehead, Salem, Beverly, Lynn and Swampscott."
__________________
Andrew Oliver, M.B.E., M.B.A.
Real Estate Advisor
Andrew.Oliver@Compass.com
www.AndrewOliverRealtor.com
www.OliverReportsFL.com
————
Compass
800 Laurel Oak Drive, Suite 400, Naples, FL 34108
m: 617.834.8205