February Inventory – Marco? Marco? Where are you?
There are 34 cities and towns in Essex County and, according to the 2019 US Census, some 202,000 owner-occupied housing units. As of February 1st there were just a combined 261 Single Family Homes and Condos available for sale – or 0.13% of the total.
Single Family Homes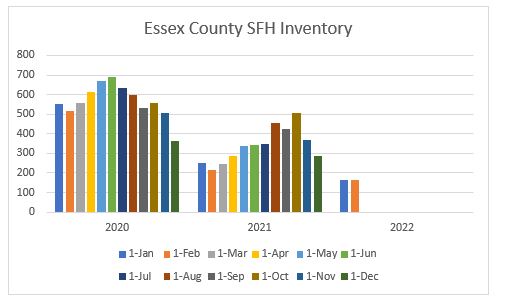 Condos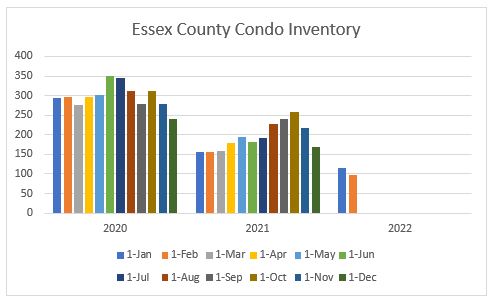 >
Mortgage rates
The 30-year Fixed Rate Mortgage fluctuated around 3% for most of 2021. The Fed appeared to many commentators (read my "Party on, dude" says the Federal Reserve posted in March 2021) to be taking an overly optimistic view about inflation; its policy reversal late in the year sparked a jump in the crucial 10-year Treasury yield and hence in mortgage rates, which many experts expect to hit 4% this year.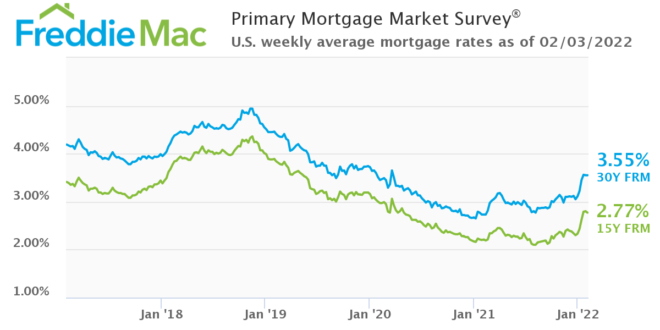 15-year mortgages produce very substantial interest payments over the life of the loan and remain attractive are for those who can afford the extra monthly payment.
Comment
There really aren't any new ways to comment on how low current inventory is. In Marblehead, for example, there are just 5 SFHs currently available for sale, in Swampscott 7, Salem 3 and Beverly 4.
The supply demand imbalance remains more of a factor than higher mortgage rates, especially with the economy growing strongly and Omicron infections plummeting.
And read these recent articles:
Can the Federal Reserve prevent a Recession?
How Marblehead's 2022 Property Tax Rate is calculated
Essex County 2022 Property Tax Rates: Town by Town guide
Essex County 2022 Commercial Property Tax Rates: Town by Town guide
Guide to Buying and Selling in Southwest Florida
If you – or somebody you know – are considering buying or selling a home and have questions about the market and/or current home prices, please contact me on 617.834.8205 or Andrew.Oliver@SothebysRealty.com.
"If you're interested in Marblehead, you have to visit the blog of Mr. Andrew Oliver, author and curator of Oliver Reports . He's assembled the most comprehensive analysis of Essex County we know of with market data and trends going back decades. It's a great starting point for those looking in the towns of Marblehead, Sale, Beverly, Lynn and Swampscott."
Andrew Oliver
Market Analyst | Team Harborside | teamharborside.com
REALTOR®
Sagan Harborside Sotheby's International Realty
One Essex Street | Marblehead, MA 01945
m 617.834.8205
www.OliverReportsMA.com
Andrew.Oliver@SothebysRealty.com
Sotheby's International Realty® is a registered trademark licensed to Sotheby's International Realty Affiliates LLC. Each Office Is Independently Owned and Operated
Andrew Oliver
Sales Associate | Market Analyst | DomainRealty.com
REALTOR®
Naples, Bonita Springs and Fort Myers
Andrew.Oliver@DomainRealtySales.com
m. 617.834.8205
www.MarbleheadSouth.com