Housing Inventory continues to shrink
The number of Single Family Homes (SFH) for sale in Essex County as of February 1 is down 23% from a year ago and down 42% compared with 2015.
The chart below shows the overall numbers for Essex County and Massachusetts, followed by tables for each city and town.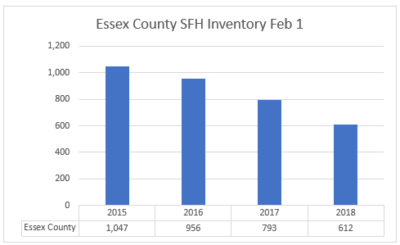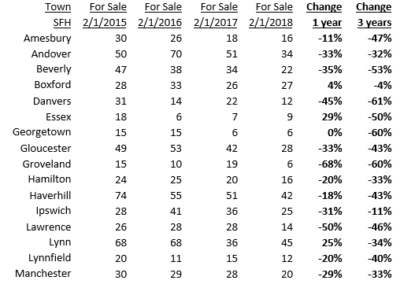 If you – or somebody you know – are considering buying or selling a home and have questions about the market and/or current home prices, please contact Andrew Oliver on 617.834.8205 or Kathleen Murphy on 603.498.6817.
If you are looking to buy, we will contact you immediately when a house that meets your needs is available. In this market you need to have somebody looking after your interests.
Are you thinking about selling? Read  Which broker should I choose to sell my house?
Andrew Oliver and Kathleen Murphy are Realtors with Harborside Sotheby's International Realty. Each Office Is Independently Owned and Operated
@OliverReports