Marblehead's disappearing Inventory
For some time I have been publishing charts showing inventory in recent years, but this one goes back to 2010 on this date.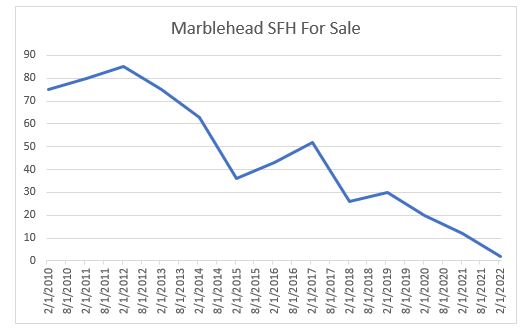 There are some 6,300 SFHs in Marblehead and currently just 2 of them are available for sale. It is hard to imagine a better time if you need to sell.
And read these recent articles:
Is Real Estate seasonal?
Federal Reserve: "Make me responsible…. but not yet"
Earth to Federal Reserve: What are you waiting for?
February Inventory – Marco? Marco? Where are you?
How Marblehead's 2022 Property Tax Rate is calculated
Essex County 2022 Property Tax Rates: Town by Town guide
Guide to Buying and Selling in Southwest Florida
If you – or somebody you know – are considering buying or selling a home and have questions about the market and/or current home prices, please contact me on 617.834.8205 .
"If you're interested in Marblehead, you have to visit the blog of Mr. Andrew Oliver, author and curator of Oliver Reports . He's assembled the most comprehensive analysis of Essex County we know of with market data and trends going back decades. It's a great starting point for those looking in the towns of Marblehead, Sale, Beverly, Lynn and Swampscott."
Andrew Oliver
Market Analyst | Team Harborside | teamharborside.com
REALTOR®
m. 617.834.8205
www.OliverReportsMA.com
   ————————–
Andrew Oliver
Sales Associate | Market Analyst | DomainRealty.com
REALTOR®
Naples, Bonita Springs and Fort Myers
m. 617.834.8205
www.MarbleheadSouth.com
www.OliverReportsFL.com