Marblehead house sells for 35% above list price
Housing market slowdown? Tell that to Marblehead buyers.
A house listed at $1.5 million just sold for a tad over $2 million.
And in the Third Quarter overall two-thirds of the 74 Single Family sales in Marblehead took place above list price with more than a quarter at 10% or more above list price.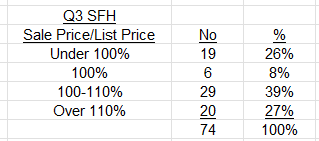 Inventory in Essex County
A market is traditionally deemed to be in equilibrium between buyers and sellers when there is enough supply to meet 6 months of demand (I actually think that number has been reduced by the speed with which buyers now become aware of new listings and are able to view them online, but 6 months is still the most quoted figure).
Here are the numbers for Essex County SF homes as of October 1: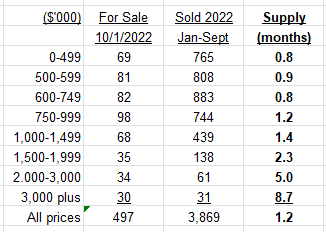 Comment
Mortgage rates have doubled, the stock market has swooned, there is increasing talk of recession, etc, etc. And yet, there is no sign that the imbalance between buyers and sellers in Essex County has changed in the slightest.
I find myself wondering whether the spike in mortgage rates will be the latest factor in keeping supply in check, as homeowners are reluctant to give up their cheap mortgage rates and pay current rates if they buy a new home.
And these recent articles:
Economic and mortgage commentary
Recession? Yes, no, maybe….
Federal Reserve tries to rewrite history
Has Inflation Peaked?
Have Mortgage Rates peaked?
Are we already in a Recession?
Federal Reserve in Fantasyland: Implications for Housing Market
Time to Consider an Adjustable Rate Mortgage
How Marblehead's 2022 Property Tax Rate is calculated
Essex County 2022 Property Tax Rates: Town by Town guide
Market Reports
Marblehead house sells for 35% above list price
Summer 2022 Market Review
August Inventory recovers to 2020 levels
Essex County Mid-Year Market Summary in 5 slides
Massachusetts Mid-Year Market Summary in 5 slides
How quickly are houses selling?
Have Home Sales slowed?
June Housing Inventory: still way below 2020 levels.
Other
Free Property and Mortgage Fraud alert notification for homeowners
Guide to Buying and Selling in Southwest Florida
If you – or somebody you know – are considering buying or selling a home and have questions about the market and/or current home prices, please contact me on 617.834.8205 or ajoliver47@gmail.com.
Andrew Oliver, M.B.E.,M.B.A.
Market Analyst | Team Harborside | teamharborside.com
REALTOR®
m 617.834.8205
www.OliverReportsMA.com
"If you're interested in Marblehead, you have to visit the blog of Mr. Andrew Oliver, author and curator of OliverReportsMA.com. He's assembled the most comprehensive analysis of Essex County we know of with market data and trends going back decades. It's a great starting point for those looking in the towns of Marblehead, Salem, Beverly, Lynn and Swampscott."
__________________
Andrew Oliver, M.B.E., M.B.A.
Real Estate Advisor
Andrew.Oliver@Compass.com
www.TheFeinsGroup.com
www.OliverReportsFL.com
————
Compass
800 Laurel Oak Drive, Suite 400, Naples, FL 34108